Want to make a puppet film and earn prizes?  Enter our contest, completely free.
---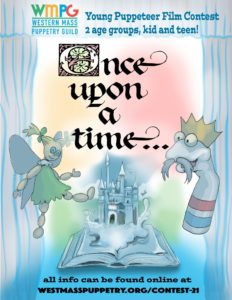 What do I do?
Entries open until August 1, 2021

Lots of Prizes and awards
---
Goal
Our guild is working to create a large young puppeteer section of the guild made to bring them together and give them an opportunity to meet other kids who are fascinated by the art of puppetry just like us "adults", so that they have a forum to collaborate with their peers.  We hope that this summer's contest will inspire many new young puppeteers to join our guild in this mission.  There are not a lot of organization's cultivating our next generation of puppeteers and we wish to change that!
The Contest
Contestants may work as an individual or as a team to produce a puppet film, three minutes or less in length and loosely based on the year's theme.  Any type or combination of puppetry styles is acceptable including but not limited to: shadow, hand, mask, rod, marionette, stop motion, table-top, paper pop-up's, bunraku style, etc.  We are going to split the contest into the two age categories of "Kids" (0 – 12)  and "Teens" (13 –  19).
This year's theme: "Once Upon A Time…"
Film Rules:
Adults are allowed to help and assist but the team leader and stars of the show must be kids. The age category should be based upon the average age of participants.
No licensed material may be included in these films, please keep it all original work (music or video). We do not want anyone to be fined for copyright infringement.
Films may have a combination of puppets and other living creatures like humans, but the cast must be primarily puppets.
No mature content (language, politics, blood, gore, or violence, or other adult themes).
Have fun!
Judging:
Puppetry design (how the puppets look and move as well as originality, creativity, and ingenuity)
Puppetry performance (how well do you perform with your puppets)
Story (characterization, dialog, and script)
Other creative elements: (props, costuming, music or sound effects)
*We will not be judging on film quality because we do not want folks to have to buy expensive equipment.  Just do the best with what you have available.
If this is new to you, see Puppet Filming Tips from one of our members, John Regan.
Check out some great YouTube links as well.
Details:
This contest is completely free and open to all young puppeteers on planet earth!  I apologize to any who are currently living on another planet but the postage is too high to send you prizes.  Films will be prescreened to make sure they stay within the guidelines and followed our few rules in order to be accepted.  When filming your films please try to include the title card we are providing (download it off the website) somewhere in the beginning or end of your film.  In order to participate all participants must submit a registration form with signed permission from parent or guardian (a team may use all the same form, but still will require individual signatures).   All video submissions and registration need to be received by August 1st, 2021 with an on-line presentation of all accepted videos and awards given on the evening of Saturday August 14th, 2021 (you do not have to be present to win).  The guild also plans to have our first live in-person event in Western Massachusetts on August 28th, 2021 as a presentation of these films.
Prizes and Awards:
All participants will receive a half price code to register and become a one year member of the Western Massachusetts Puppetry Guild. They will also be in the running for all kinds of award certificates which you may print out. A list of these award recipients will also be posted on the Western Massachusetts Puppetry Guild Website and Facebook page following the contest.
The top tier winners (first, second, and third place winners in our two age brackets) will also each receive free one year membership's, to the Western Massachusetts Puppetry Guild for all individual and team participants.  Each of these six teams will also receive an original illustration certificate based on your film by Jay Mooers of Eden Park Tales, and their films will be featured on an episode of "Fun Time with Mr. Dave".  Additionally, the two first place winners will also receive a $100.00 (USA) gift card certificate to "Puppet Pelts", which provides puppet builders with some of the best puppet building resources available.
Questions
Any questions about this contest or WMPG please use the guild email address (puppets@westmasspuppetry.org.
Submitting your work:
If you are ready, send your film to us making sure to include Team Leader Name and the Title to (puppets@westmasspuppetry.org).
After you have sent your film, each participant must submit a form giving permission  to the Western Massachusetts Puppetry Guild to show their film.
Young Puppeteer Film Contest – Form
For films by those under 18 or younger permission must be submitted by a parent or guardian on this form.