Welcome to the Western Massachusetts Puppetry Guild – WMPG.
---
Visit with us June 17 at 7:00 PM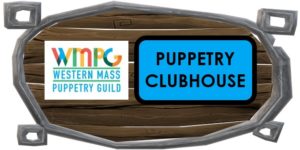 ---
Join us for socializing and sharing.  We also have a great idea for a "Kids Summer Puppet Film Contest" this summer.  Drop by and chat.
---
Thank you for helping us make the Festival of Miniature Crankies a wonderful success!

WMPG was a Sponsor of the Festival of Miniature Crankies.  This was a mini-festival of workshops and unique performances of scrolling image stories, in miniature.
Featuring some of the best artists currently creating this traditional entertainment.  Scheduled performers include Katherine Fahey, Sue Truman, Deborah Hunt, Eric & Ines Bass, and more.
Miniature crankies are a special niche.  These are portable storytelling epics that can be carried with you and shared with an intimate audience.  The morning workshops will teach you how to make your own miniature crankies.  The perfect thing to share with your Valentine.
Learn more about crankies at The Crankie Factory.